In 1993 I was a back seat passenger in a car when, unfortunately, the driver lost the road and crashed. I don't recall the accident. I woke up from a coma a month later in The National Spinal Injuries Centre in Stoke Mandeville. At 17 I was paralysed, and wheelchair-dependent. It felt like my life had to start again, learning how to look after myself, and basically live!
A wheelie!
My first wheelchair skills lesson was from a physio at Stoke when I was an inpatient. Being a boy, I quickly discovered I could wheelie in my chair (the back wheel balance). This was very appealing. I quickly learnt how to negotiate curbs, thresholds and uneven surfaces through practice and making a lot of mistakes.
Discharge
After being discharged from the hospital just before my 18th birthday I had to live in my parents' front room. For 6 years. After 18 months of being at home with nothing to do, I learnt to drive and got a job. Life started to feel normal again.
Over the years I've had several jobs, but none as rewarding as teaching wheelchair skills.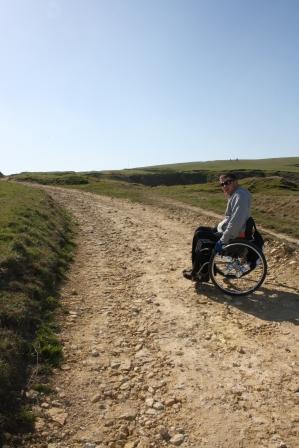 The begining
In 1999 I got involved with a Spinal Injuries Charity called Back-Up and went on a couple of activity courses with them. Back-Up then asked me if I wanted to be involved with a peer-led Wheelchair Skills Training project they were starting. The aim was to learn how to teach people the skills they would need to use a wheelchair safely. To be more independent – I jumped at the chance!
Through this project, I began to teach wheelchair skills to newly injured people with Spinal Cord Injury. In Spinal Centres and on courses run by Back Up around the country. And gained Accreditation in Wheelchair Skills training through this work with Back Up.
For over 18 years I have taught people the fundamentals of using a wheelchair. Which has encouraged them to lead more independent lives. I have been approached by wheelchair users with a range of disabilities in my community and asked if I could teach them wheelchair skills. I have come to realise there are many more wheelchair users in the country that don't get the benefits of peer-led wheelchair skills training. This is why I have started up Freedom Wheelchair Skills.
My aim
My aim is to develop the skills and confidence of people who need a wheelchair for their mobility, to enable them to lead more independent lives and get out there!