Should I change my font size? Maybe I should?
After sitting in a REMAP trustee Zoom meeting yesterday, I thought I might change my font size to make my blogs easier to read. My new glasses made it difficult to focus between people and documents; I remember the optician lady telling me I needed to move my head and not my eyes; it's tricky.
Sometimes my eyes focus well; other times, I don't think they do, but with a slight adjustment of my head, things become well-defined. This is why I have had to change my font size. However, I'm unsure if it's these new glasses or my age.
After the disappointing service from my local Opticians on my last visit, I decided to take my custom elsewhere when the reminder came.
It's a shame to change
It's a shame. When I first visited my local opticians, they were a husband and wife team. Service was very good, and I felt valued. Furthermore, they could accommodate my needs well. They were local and independent.
On my last visit, I mentioned I needed to stay in my wheelchair during the examination when I booked the appointment over the phone. The receptionist said this would be fine. On arrival, they take a moment to find the portable ramp to make my entrance easier. I can pop up the small step with a little run-up and keep my front wheels elevated over the close threshold, but the ramp is there as an aid and helps prevent any risk of me looking stupid! Getting out is a doddle!
I'm asked into a clinic room and the Optician, who I have not met before politely suggests that I transfer out of my wheelchair onto the uncomfortable-looking examination seat. Using my independence, I told her I wanted to stay in my wheelchair and that I explained this to the receptionist when booking the appointment, and that the receptionist said it wouldn't be a problem. Immediately I have a sense of annoyance from the optometrist.
This once locally family-operated eyeglasses shop had been taken over.
Custom
Moving away from the local resource, I ventured into my local town. After seeing the bargain 'two frames for the price of one' ad on the TV, I thought I'd try a national Optician.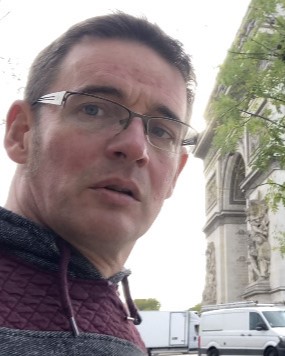 If I change my font size, will it make my blogs more appealing?
So new or old glasses?
Sucker
While choosing frames, the shop assistant was assisting me – annoyingly. I know it's her job, but I just wanted to take my time to decide. Truthfully I wanted my wife there really to say yes or no!
While the fifth or sixth pair was sitting on my nose, and the assistant said 'fashion' for the millionth time, I fell for it, hook, line and sinker! A week later I picked them up and got home to be told I looked like…….