Why are wheelchair theatres tickets hard to purchase? Are theatres purposely making purchasing a wheelchair theatre ticket or tickets, allowing wheelchair spaces, a challenge? Maybe they do this hoping that the ticket doesn't get sold? So why are Wheelchair theatre tickets difficult for me to purchase?
Why are theatre tickets hard to get?
Why are wheelchair theatre tickets hard to purchase? In order to buy some tickets, I need to log on to my laptop. I searched West End shows. There is one that catches my eye, several! I feel like taking a trip to London Town and maybe watching Back to the Future, the Musical.
Theatre tickets in London or local?
Now thinking positively about the current Covid situation, I'm sure travelling into London will be safe. Then again, I see Steve Backshall Ocean is at Aylesbury Waterside Theatre. This theatre is a little easier to get to, with no trains or parking challenges.
Can I get a ticket?
Excitingly, Steve Backshall tickets are available to book online – no wait, I can't! My wife, sister, niece and nephew, and even my mum can if she wants. They can book virtually. But not me. I find this annoying. It is because I need an 'access seat'. As it happens, I just need a space. I'm happy to sit anywhere I have a view!
"PLEASE HOLD A MEMBER OF THE TEAM WILL BE WITH YOU SHORTLY"
Why are wheelchair Theatre Tickets Hard to Purchase? I'm on the phone. It has been fifty minutes. The ATG access booking line for Steve Backshall tickets is still on hold. Driving to the theatre in Aylesbury to get the tickets might be quicker?! I have things to do; I can't sit here waiting for them to answer.
From experience, I know the O2, on the Greenwich peninsular, has a particular booking line to call if you require a wheelchair space or have difficulty walking and need a seat close to the entrance, which is helpful.
Contact
The automated electronic voice says they are 'expecting high volumes of calls and someone will be with you'….bla blah blah…. EMPLOY MORE PEOPLE! Or is the lack of staff caused by the board of directors' greed, wanting more profit, outweighs the convenience to customers?
In the end, I give up; I can't stand the looped music funnelling through my ear canal, being absorbed by my brain! If it had been Incubus or Weller playing, then maybe I could have continued to wait in suspense?
Enough is enough – I need to act
Finally, I sent a message to ATG Tickets through Social Media to make a point of my frustration. Highlighting the inconveniences, I am going through. I ask for a callback. I get on doing stuff, as I have a life and cannot stay on hold my entire day.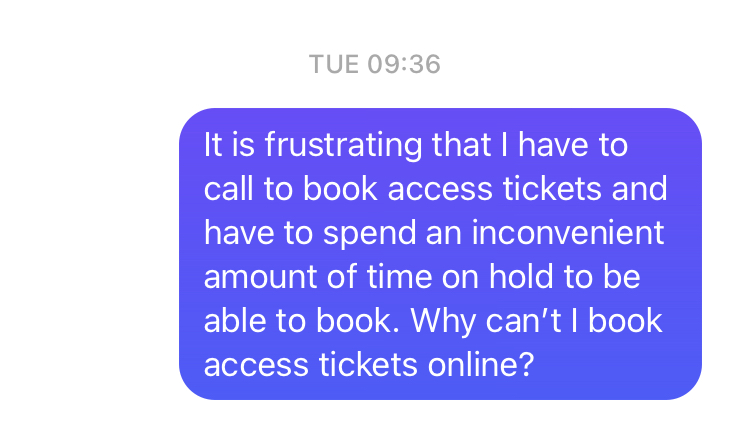 A short time later, my mobile device lights up. Notifying me, I have received a message. It's a reply from ATG. I read their answer; it is addressed to me but seems partly automated. The response has various links to assist me supposedly – they don't!. Then another message appears. I feel a human may have sent it.
I respond quickly, hoping the same human might read my reply, have a little heart and understand my annoyance. At the same time be friendly and helpful with my enquiry.
Alas, no, they must have gone on a break? Take their leave for the working day? – although it's not even 11 AM! Or just can't be bothered? Again the reply is addressed to me. Unhelpfully it is a list of several Theatres around the country that allow booking access to tickets via online services. Reading down the list, I start feeling irritated, deflated and annoyed that because of my wheelchair, my need to buy an access ticket and having to use this number, I can not get my purchase at a Theatre of my choice virtually.
Why, oh why are tickets so tricky for me to get?
They shouldn't be 'access tickets' or tickets 'for a wheelchair space'. They are just tickets, and I happen to need to use a wheelchair for my mobility. The booking website should be able to cater for this requirement.
Seating area
Some theatres remove a seat in the auditorium so the wheelchair user can stay in their wheelchair. Removing a chair is very helpful but can be occasionally uncomfortable. The slant of the seating arena is so that I'm sitting at an angle with front casters lower than the rear wheels. When sitting like this for an extended period can result in discomfort. I constantly have to fidget, hoping I'm not disturbing the audience member sitting at my rear.
You need to prove it
Maybe the booking agent or the theatre are careful who they make tickets available to. Therefore they make sure that the valid individuals buy the correct ticket. With having to send proof of my disability, a duplicate of a benefits letter or a copy of my blue badge, will guarantee I get the ticket I need to allow for my additional needs?