Freedom has arrived!
Wheelchair skills training is available. Safety measures are in place. Keeping everyone safe. I have bookings coming in regularly. Freedom has arrived.
Juggling this organisation, child care as school is off, and the menu at home – I am head chef – is a lot easier without having to do homeschooling at the same time. 
Life moves on
If I'm frank, I'm not sure what the rules are. People are allowed to fly; there is a plane overhead as I write this. You can go to the pub. Visit the cinema, eat out at your favourite restaurant, loved ones can embrace, and Kids can play sport and attend clubs or one-to-one music lessons. But this is the same as it was one month ago, as far as I can recall. And not forgetting, wheelchair skills training is available.
Oh, the difference is you can wear a mask 'if you want'
According to the figures, the number of cases is rising again (at the time of writing). People are off work because they have been near an infected individual. Hospital admissions are low in comparison (at the time of writing), and those admitted did not have 'the jab'… or most of them anyway?
There are a lot of people moving around. It's the holiday season, it is HOT, and people are having staycations, well the majority of people are…. There are a lot fewer planes flying over than before LockDown #1. You hear on the travel news of people sitting in long queues on motorways. Lorry drivers and commuters stuck in procession on various travel corridors around the country. Before, during, after LockDowns and now in staycation season. Are some people still on Furlough?
Acting on the side of caution while skills training
As a spinally injured individual, I'm going to continue to wear a mask in crowded indoor places or where people may be too close for my comfort. That said, I just visited my barber. I've known her for 20 years. I went for a short back and sides but forgot about my mask, which was in my pocket. When I realised and asked if she wanted me to put it on, the reply was 'it's your choice'. Which I believe is the rule now. I felt safe as I knew we were both double jabbed.
Now wheelchair skills training is available, I will continue to wear a mask during training sessions.
After wheelchair skills training made all the difference.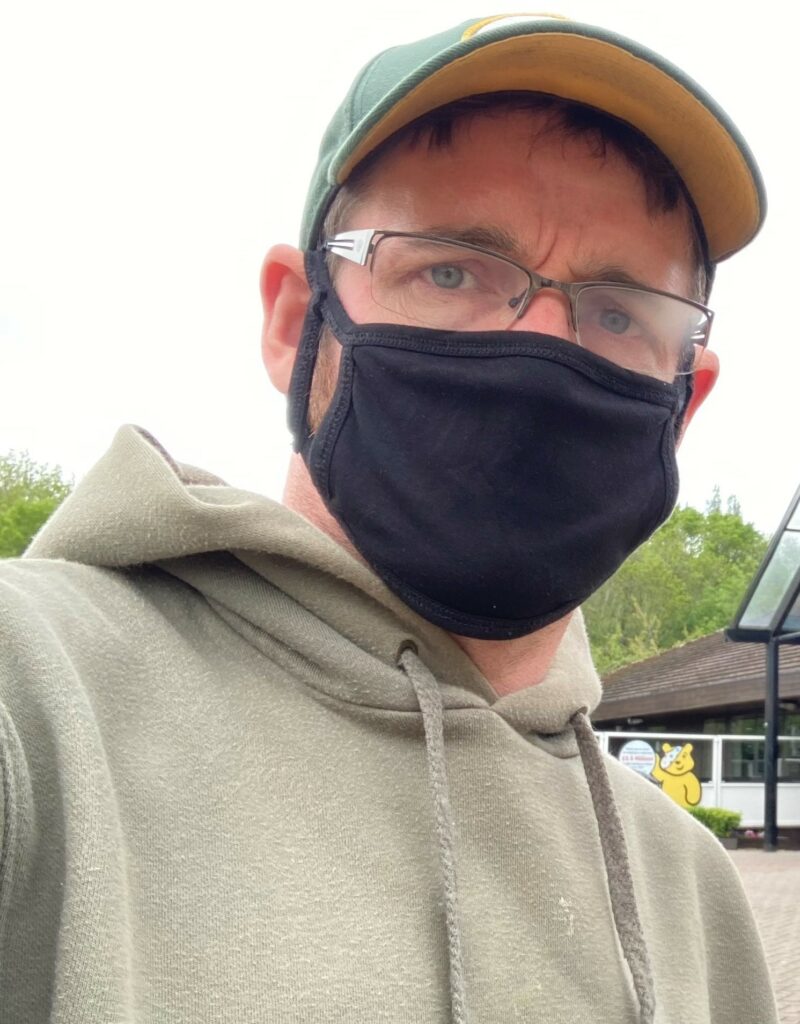 As wheelchair skill training is available, and part of a Premium training package is to follow-up with a client to discuss skill development. Today I did a follow-up call with a client to see how the skills had developed since the training a month ago. When she replied, I could tell she was smiling and had an air of confidence around her. The fact that she could wheel along and not be anxious about an obstacle, a raised paving slab or a door threshold, and get over it without having to stop and struggle has made all the difference.
Road trip
As freedom has arrived, wheelchair skills training is available and safety measures are in place. Next week I head down to the sunny south coast for a group wheelchair skills session in association with Eastbourne Wheelchair Service. I will be wearing a mask during the training not just for my safety but also for the participants. If the clients feel it is safe not to wear a mask, that's up to them. Group numbers are limited for me to manage social distancing and monitor individual skill development, so I know it will not be mega busy.